Electronic Recycling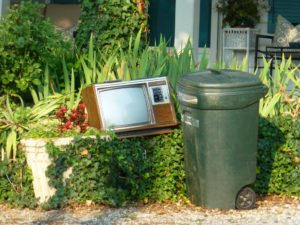 Since 1999, SWANCC has provided environmentally responsible recycling for end of life computers and electronics.  According to the United States Environmental Protection Agency (EPA.gov) – since the late 1990s, electronics or E-Waste has been the fastest-growing component of the municipal waste stream.  Additionally, the National Resources Defense Council (NRDC.org) cautions that some of the materials in personal electronics, such as lead, mercury and cadmium, are hazardous and can release dangerous toxins into our air and water when burned or deposited in landfills improperly.  Also throwing away metal components, like the copper, gold, silver and palladium in cell phones and other electronics, leads to needless mining for new metals.
On January 1, 2012, Illinois became the sixteenth state to adopt an electronics recycling law known as the Electronics Products Recycling and Reuse Act.
Permanent Drop-Off Locations:
The following communities will host permanent electronics locations for residents who live in any SWANCC member community. Collection locations will be closed on national holidays. IDs will be checked for verification of residency in a SWANCC member community. Please note that SWANCC residents are able to participate in any event, regardless of location.
Glenview Transfer Station
1151 N River Road
, Des Plaines
Across from the Maryville Academy
Saturdays: 9:00 am – 11:30 am
Year-Round
Closed: September 10, November 26, December 24
Winnetka Public Works 
Hoffman Estates Village Hall 
Do not drop off electronics other than during posted dates and times.
Thank you for your cooperation