Driveway Snow Clearing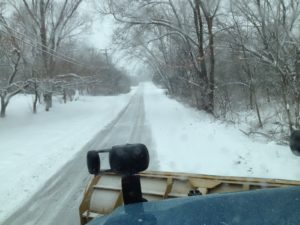 Whether we receive several inches of sleet, freezing rain, graupel, snow or extreme frigid air, Palatine Township Road District is staffed and equipped to combat all the fickle weather we receive in the Chicagoland area.
Help us to keep your neighbors and other motorists safe by not disposing of snow into the street, a public sidewalk or even on the parkway across from your property. Properly pile the snow from your driveway on the downstream edge of roadway plowing operations and your drive. This will reduce the amount of snow deposited into your driveway during the following storm event. If a mailbox has been compromised by our municipal plow truck, please notify us immediately so that a temporary mailbox may be installed for continued postal service. If you any questions, concerns or need any additional information please do not hesitate to contact us at 847.358.6336. Thank you for your consideration, everyone at the Road District greatly appreciates your effort in combating the winter storms and together we will keep the roadways open and safe.