2013 – 2014 Winter Update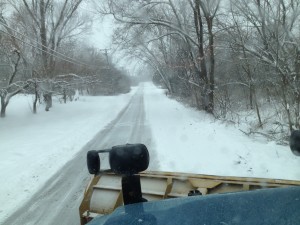 Last winter season 2012-2013, we saw the longest stretch of snowless days since 1994.  We all know that can change in the Midwest and at the Road District we continually plan for winter storms.  In fact this winter season we experienced one of the snowiest weeks on record to start 2014.  From December 30th through January 5th O'Hare International Airport, which is the official measuring site for Chicago, saw 23.1 inches of snow.  The snowfall during this seven day span was one of the highest observed weekly total dating back to 1884 and the highest observed weekly total since the Groundhog Day Blizzard of 2011.  To keep the snowfall totals relative, the entire 2012-2013 winter season saw 30.1 inches and as of January 28, 2014 we have already received 48.2 inches.
Not only did we break snowfall records, but we were also introduced to the POLAR VORTEX.  As you may remember and would like to forget, immediately after the record breaking snowfall we plunged into record breaking low temperatures and wind chills that brought in the polar bears at the local zoo.  The coldest temperature was -16 degrees on the morning of January 6th which breaks the old daily record for January 6th of -14 degrees set in 1884 and 1988.  A typical winter only sees seven days of low temperatures below zero degrees, however this winter has produced six days as of January 6th .  As if this wasn't enough, northern winds came gusting in to drop the bitter cold further.  The lowest wind chill of -42 degrees was also set on this dreadful morning of January 6th.  Although this did not break a record for wind chill, it certainly was one for the book.  For more information regarding the records please visit http://www.crh.noaa.gov/news/display_cmsstory.php?wfo=lot&storyid=99894&source=0.
While all these records were being broken the Road District Crew were out plowing and applying ice control measures.  The dedicated crew spent hours in their trucks making sure that the roadways were clear of snow and ice for all commuters.  We stand ready to do our duty to remove snow and ice in an effective manner in order keep the motoring public safe.  One such duty that allows us to accomplish this is to maintain of our fleet.  We frequently service our plows to meet design specifications and look for used vehicles and equipment that would support our commitment to the residents while maintaining a cost savings.