2014 Tire Amnesty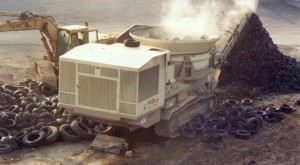 The famed inventor Charles Goodyear changed the world in 1839 when he accidentally dropped a mixture of India rubber and sulfur onto a hot stove and turned a flimsy gum into the sturdy stuff which today is the modern tire. But that same wonder material that has become a staple of modern society has become one of the largest solid waste headaches.  This headache extends to our roadside ditches where some residents "fly dump" their unwanted tires, because their disposal is so difficult.  This creates breeding grounds for mosquitoes, flooding and mowing problems for the Road District, not to mention an unsightly landscape. We started a tire amnesty program several years ago; early each spring on selected Saturdays anyone living in Palatine Township can drop off their used tires at our yard. These tires are then sent to the grinder where they are ground up and used for asphalt pavement and play ground surfaces.
If you are a resident of Palatine Township come and drop off your old tires at the Palatine Township Road District Garage. The drop of times will be from 8:00 a.m. to 3:00 p.m. on Saturday April 27, 2014 and Saturday May 3, 2014. Our location is 530 N. Smith Street, just under the water tower.
No tires over 16″ in diameter  or from commercial vendors will be accepted.